The digital transformation in health care is accelerating.
The Supply Side
The Consumer Technology Association's annual Consumer Electronics Show (CES 2020) spotlights the development path of new technologies aimed at making our living experience more fulfilling, exciting and sometimes safer. To that last point, digital health devices and wearables again were among the most active sectors at the show.
This year's show demonstrated the continuing proliferation of health/medical applications into increasingly specialized health conditions needs (new vital signs monitoring tools, heart monitoring combined with de-fibrillation capability, wearables to track and signal or treat pain, temperature modulation, etc.), often around a specific segment of the population, like the elderly.
The show also highlights a trend toward the blending of delivery mechanisms: wearables that transfer information to one's computer; a device (Medwand) that allows a consumer to become a doctor's helper in diagnostics; and, my favorite, a bath mat (Mateo) that transmits a range of information to a personal app.
More of these new tools are integrating artificial intelligence into their functions, which makes some monitoring applications less intrusive and introduces a predictive capacity that facilitates more active use for personal guidance.
The Demand Side
The digital supply-side developments mesh well with trends on the consumer side of the equation. For several years, we've been monitoring a movement toward increasing self-reliance for personal health management.
Our most recent (2019) consumer health technology survey [PDF] shows widespread comfort with and use of technology apps. Six of ten Americans (58%) report that they find health technology tools helpful in managing their health and well-being.
Our focus is on motivations, so we probe the whys behind this use. Reflecting the diversity of applications we see in the available tools, consumers typically cite multiple reasons for using their tools. Topping the list: to motivate, to monitor, to guide.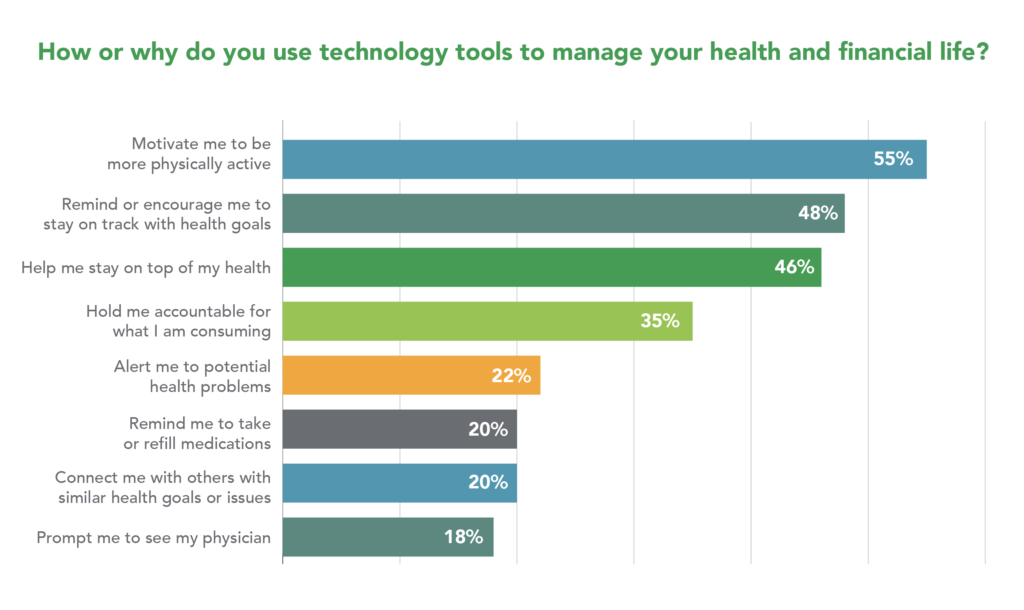 These reasons for relying on technology tools fit with the key motivational drivers behind the self-reliance inclination. The action that self-reliant Americans perceive as essential is to "stay on top of" their health – implying an active form of managing. Effectively staying on top of things feeds a sense of control, which contributes to a greater sense of well-being aided by confidence that they're making smart decisions about their health, all of which contribute to greater peace of mind about health and life overall. (Peace of mind is something we discuss as it relates to finances in our most recent research paper [PDF].)
As the digital revolution advances, we anticipate seeing increasing alignment between the functionality of the tools and the needs/motivations of consumers.